Yesterday we posted about LocalPhone offering
free International calls
to USA and Canada from anywhere in the world. I am sure many of you must have made use of the offer to make free calls on 4th July, the Independance Day. LocalPhone is one of the most trusted and most widely used voip provider.
Many of our blog readers may already be using LocalPhone for their international and national calling needs. Specially, many NRI use LocalPhone for calling India. There are lots of reasons for that. I am myself using Localphone.com for quite a long time now and have been quite satisfied with LocalPhone Voip service.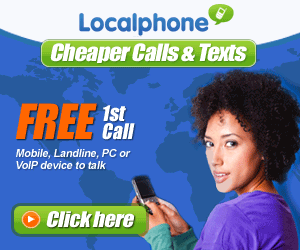 Update (Feb 2011):
Now you can also use the following Localphone voucher code and get free bonus credit. When you join
Localphone
, you will get first call free and some bonus credit.
Your first call is free and you'll get a $10 bonus when you top up by $15 using the voucher code NEWUSER11. New Call rate to India is just 1.59 cent per min. After bonus it will cost you effective rate of just 1 cent per min.
Mr Hitesh, one of the regular readers of
Free Pc to Phone calls
, shares his experience of using
LocalPhone
. He regularly uses localphone for calling India from USA. Below is his review about LocalPhone.
"
I am using localphone for like last 18 months. It's a Uk based VOIP provider which offer phone calls to various destinations.

First thing which I like about LocalPhone is its quality. The call quality (voice quality) is really excellent. There is no busy signal, no call drop or any voice drop sort of problem, indeed a complete peace of mind.

Second thing is its easy to use service. Only one time set up is required. I am using it to call India form USA. For each Indian number they give me one local USA number. So I just dial that number and my call get forwarded to my Indian destination number. They also have local access number, so I can even call any unregistered number. Another great thing about LocalPhone is that it also give local number from other 45 countries.

Third thing is that their rates are very reasonable. For e.g. to call India it is just 2.9 cent per minute. And they also reduce it periodically, when I was calling 18 months back, the rate was 6 cent per minute. Now it is just 2.9 cent per minute. So we do not have to find another cheap and better service provider.

Last but not least is there are no confusing plans and fees like monthly fees, service fees, expiration date of credit, so I do not have to worry about expiring minutes or unused credit.

In my opinion those who really looking for quality service at reasonable rate
LocalPhone
is the answer for you.
"
Cheers to Hitesh for such a nice review..!!
PS: If you also want to share your calling experiences with us, then you are most welcomed to do so. Write me at
madhur.dce@gmail.com
.
Update :
Localphone
is running a promotional offer.
When you sigh up with $1 credit, you will get $2.5 credit. That's additional $1.5 credit as bonus.
$1.5 credit is worth 100 minutes to India. This makes cheapest voip provider to India with effective rate of just 0.6 cents per minute. This offer can be used to call other countries as well. What are you waiting for. Just try
Localphone
.
(No expiry of credit, good voice quality, and
sign up for free - 1st call also free. Add credit as low as $1
plus get
$1.5 bonus
).
Coupon Code :
FPBONUS