Its the festive month of Dussehra and Diwali. Many NRI (Indians living abroad) come to India to celebrate this festival, rest just call everyone in their family and friends to wish them. Its the time when your phone bills go high up! But wait, we have the best offer till date : LocalPhone Diwali Offer.
Localphone is offering

Free 3$ Bonus Credit

on purchase of $1 credit.
Info about this Localphone Offer : Localphone Diwali Promotion.
200 extra free minutes to India by Localphone.
This is additional minutes apart from your purchased credit.
When a new user signs up to Localphone and
adds $1 credit for the first time, Localphone will give you a
$3
bonus!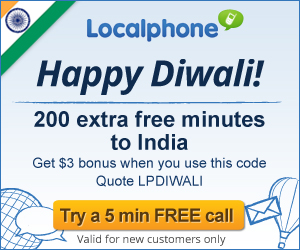 Registration procedure and availing the offer is simple :
1.
Click this Localphone link
.
2. Register with Localphone. Try your first call for free.
3. When you buy credit from Localphone (as low as $1 - click add credit then other). Enter the voucher code
LPDIWALI
.
4. You will get additional credit worth $3.
This Localphone offer is by far the best offer I have seen in recent times. Buying just $1 credit will entitle you for 3$ credit : that is you will get $4 credit (total). Your effective calling rate to India will be just 0.04 cents per min (less than half a cent).
If you have not yet tried
Localphone
, then I strongly suggest to try Localphone with this promotion. Additionally Localphone is one voip provider that once you try it, you will remain its customer forever. This is simply because of its very nice features :
a) No expiry of credit : this is a very useful feature.
b) Excellent Customer Support.
c) So many ways to make calls : Pc to Phone, Phone to Phone, local access numbers etc.
d) Time to time promotions.
e) Good voice quality.
f) Very easy to use.
This offer means that you will get additional Free $3 bonus credit. You can use this credit to call any country (India or any other). Basically this $3 credit is equivalent to 200 minutes (200 Free Minutes).
Please note that this Localphone Diwali Promotion will expire on 31st October 2011. So make most use of it now. Try
Localphone
.
Update :
Localphone
is running a promotional offer.
When you sigh up with $1 credit, you will get $2.5 credit. That's additional $1.5 credit as bonus.
$1.5 credit is worth 100 minutes to India. This makes cheapest voip provider to India with effective rate of just 0.6 cents per minute. This offer can be used to call other countries as well. What are you waiting for. Just try
Localphone
.
(No expiry of credit, good voice quality, and
sign up for free - 1st call also free. Add credit as low as $1
plus get
$1.5 bonus
).
Coupon Code :
FPBONUS