While looking for some voip softwares for my android mobile, I came across Octro (or Octrotalk). Its a multi platform mobile voip application founded by
Octro Inc.
The company was founded in 2006 with a mission to create productivity applications for Mobile Devices. Octro has corporate office in Cupertino, California and an offshore development facility in Delhi, India.
OctroTalk is a Jabber/XMPP/GoogleTalk client. It supports audio calling to your Jabber or Google Talk contacts. OctroTalk also supports calling to phone numbers using a SIP provider of your choice.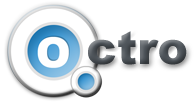 OctroTalk provides application for all devices : Apple devices (iPhone/iPod Touch/iPad/Mac OS), Android devices, Blackberry mobiles, Windows PC etc.
Octro for iPhone | Octro for iPod Touch | Octro for Mac OS
Features:
1 ) Connect securely to GTalk/Jabber
2) P2P Audio/Video Calling
3) Complete VOIP product. Access to PSTN via configurable SIP provider
4) Supports Low Bandwidth Codec
5) Gmail/GoogleTalk compatible Video and Audio Calls
6) Group Chat
Download Link
for Octro for iPhone
Octro for Android Mobile
Some of the positive reviews I found in android market : "Best voip app available Stable...running fr days Kudos to coders....", "Excellent software ever I used - having some problems of echoing - hope it will be fixed in the next updation".
Download link
for Octro for Android
Octro for Blackberry
It supports Octro Chat and SIP calls.
Download Link
for Octro for Blackberry
Octo for Nokia | Octro for Symbian Mobiles
Check out details about Octro for Nokia
here
.
Octro for Windows Mobile | Octro for PC | Octro for Windows PC
It also provides Octro app for above devices. Check out details
here
.
Some of the features that Octro voip app provides :
1.
Octro Chat
: Free Chat with other Octro Users.
2.
Octro Audio Call
: Free Calls with other octro users. Paid calls to mobiles.
3.
Octro Video Calls
: It also offers video calls on some of the devices like iPhone. Video calls to other Octro users.
4.
Octro SIP Calls
: Configure SIP of any voip provider on your Octro and start making calls.
If you have tried Octro then please let us know your reviews in the comments. If you face any problem installing or using Octro then please let us know, we will try our best to solve your problem.